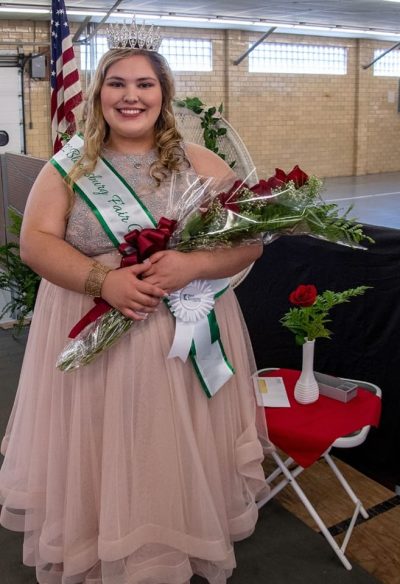 Abigail Jerome, crowned 2022 Bloomsburg Fair Queen during ceremonies in June 2022.
---
HISTORY ⏤ In 2019, for the first time, The Bloomsburg Fair hosted a Fair Queen. The Inaugural Bloomsburg Fair Queen competition, exclusively sponsored by First Keystone Community Bank, was conducted under the umbrella of the PA State Fair Queen Program and observed all rules and regulations of that organization. Nicolette Cusate was chosen as the first Bloomsburg Fair Queen.
In 2020, the 2nd Annual Fair Queen competition was held and Bryndil Lei Kemler, a graduate of Central Columbia High School and attending Penn College of Technology in their Surveying Technology program, won the crown.
In 2021, the 3rd Annual Fair Queen competition was held and Madison Coolbaugh, of Berwick, was chosen as the Bloomsburg Fair Queen. She is a graduate of Berwick High School and is currently attending Wilkes University for a BSN in nursing and hopes to become a Life Flight nurse. She is also a volunteer firefighter with Reliance Fire Company of Berwick.
In 2022, the 4th Annual Fair Queen competition was held. Abigail Jerome, daughter of the Rev. Andrew Jerome and the late Michaelene "Micki" Jerome, of Wilkes-Barre, was crowned the new Bloomsburg Fair Queen during judging and coronation held at the fairgrounds in June. She will represent the Bloomsburg Fair at community events and visits to other fairs throughout the state and Jerome will go on to compete at the state fair queen competition early next year, as Bloomsburg's fourth Fair Queen. The Bloomsburg Fair Queen program is exclusively sponsored by First Keystone Community Bank. During the 2023 state fair queen contest sponsored by the Pennsylvania State Association of County Fairs (PSACF) at the Pennsylvania Fairs & Showmen Convention held in Hershey, PA on January 21, 2023, Abigail was crowned Miss Congeniality. in the competition.
For more information, visit the Bloomsburg Fair Queen's page on Facebook.
---
Visit these pages for past fair queen information and history:
3rd Bloomsburg Fair Queen — 2021
2nd Bloomsburg Fair Queen – 2020
1st Bloomsburg Fair Queen – 2019
---
*** 2023 Bloomsburg Fair Queen Contest Update ***
For entry rules, forms and similar documents, see the list below to download: